Mobile phones are constantly evolving. At one time, people only used them to make calls, but now, consumers have access to lots of additional features. That evolution took a powerful leap forward in 2013. Companies unleashed some of their best offerings yet, giving consumers the chance to do more with their phones than ever before.
Nokia Lumia 1020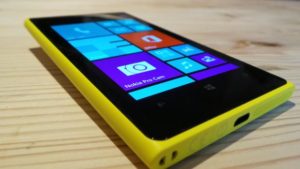 In previous years, experts did not think cell phones would ever be able to replace cameras. That changed when Nokia released the Lumia 1020. The phone comes with a 41 megapixel camera sensor. It also has optical image stabilization and super high-resolution zoom. On top of that, it has something called "lossless zoom."
This feature allows users to zoom in on something after a shot and then reframe the image while maintaining the image's original quality. The Nokia Lumia isn't just about pictures, though. It also has voice-guided navigation, Microsoft Office and a maximum talk time of 12.5 hours in 3G. All of these features make it a solid choice for consumers.
Samsung Galaxy S4 Active
The Samsung Galaxy S4 Active is currently the best phone on the market for people who work and play outdoors. The phone is dust proof so users can work outside or go hiking without worrying about damaging the phone. The design also includes liquid protection. The protection is so powerful that users can actually snap pictures underwater.
Sticking with the outdoor theme, the touchscreen was designed to be used with or without gloves. This makes the phone perfect for all types of weather and all environments.
Motorola Moto X
The Motorola Moto X is a good option for people who like phones that offer a great deal of control and are easy to use. In regards to control, users can actually build their own Moto X phones using the Moto Maker website. They can use the site to choose colors and accents for their phones. They can also choose between 16G and 32G phones.
While 32 GB is the maximum internal storage Motorola offers for the phone, users can also store up to 65GB for free on Google Drive. When it comes to ease of use, owners can access the voice and hand control features provided by the phone. Users can set alarms, create notes and more with the sound of their voices. They do not have to touch the phone to activate the voice control. They simply have to speak the command and the phone will comply.
In regards to hand controls, users can activate the camera by simply twisting their wrists. Then, they can touch the screen to take a picture. It's even easy to upgrade to the Motorola Moto X, thanks to the Motorola Migrate feature. This feature allows users to wirelessly transfer call histories, texts, videos, photos, music, and SIM contacts from the old cell phone to the Motorola Moto X.
At one time, Apple ruled and everyone else was rushing to catch up, but now, the hottest phones are Android devices. With companies like Nokia, Samsung and Motorola throwing their hats in the ring, the competition is steeper and the choices are more exciting than ever before.